Meet Your Veterinary Team
Our team is here to help. At Pressly Animal Hospital, we treat you and your pets like our family. Get to know our awesome team below:
Dr. Pressly's Bio
I have lived in Charlotte most of my life and graduated from East Mecklenburg High School in 1987. I attended the University of North Carolina at Charlotte for undergrad studies and graduated in 1992. Upon graduation, I was looking for a new adventure and moved out west to work on a Dude Ranch in Colorado. After several months on the ranch, I was placed in charge of all the horses' herd health. I was inspired by my time in Colorado that I went back to school in 1993 at NCSU. Go WOLFPACK!! While in school, I was working as a large animal veterinary technician. I then decided to enroll in Veterinary School at Ross University, which is located on St. Kitts. I came back and completed my senior clinical rotation at NCSU. After graduating in 1998, I went to work with my long-time mentor, Dr. Richard Cochrane, treating large animals in the NC triangle area. Upon moving back to Charlotte in 1999, I continued working with large animals. I suffered a near-fatal crash in June that year while on my way to a large animal service call. I suffered a broken back and a badly lacerated left forearm. After several months of rehab, I returned to what I loved, veterinary medicine. I decided at that time to make the transition to small animal medicine.
Before opening Pressly Animal Hospital, I was an emergency medicine clinician and associate in corporate and local private practice. As an associate, I noticed a lack of involvement in private practices with local rescue organizations. So, our mission was born: WE ARE THE VOICE OF FORGOTTEN PETS. I quickly came to terms with my calling and opened Pressly Animal Hospital in July 2011.
Here at PAH, we are very fortunate to work with over 80 different local and long-distance rescue organizations, as well as the Humane Society of Charlotte and Charlotte Mecklenburg Animal Care and Control. These wonderful, committed individuals and organizations allow me to do what I feel called to do and help animals find their FURREVER homes. I really enjoy coming to work every day with staff and clients committed to education and healing.
In my free time, what little I have, I spend it with my three daughters, hiking, fishing, boating, water skiing, farming, and of course rescuing animals both big and small. Our animal family consists of three rescue dogs (Duke, Colin, and Emma — PAH's honorary receptionist), one cat (Daisy), cows, and a donkey named Molly. Just recently, we have added three sheep (Daisy, Dollie, and Dibbs) and 8 chickens (Lily, Piper, Roxy, Charlotte, April, Helen, and Georgia), and 11 goats (Mollie, Millie, Fern, Minnie, Rick, Morty, Pearl, Butter, Bessie, Hopps, and Barley) to our farm.
Thank you to all our clients and friends that support our practice and mission to help all pets have a better life. Remember, stewardship of all creatures is our responsibility.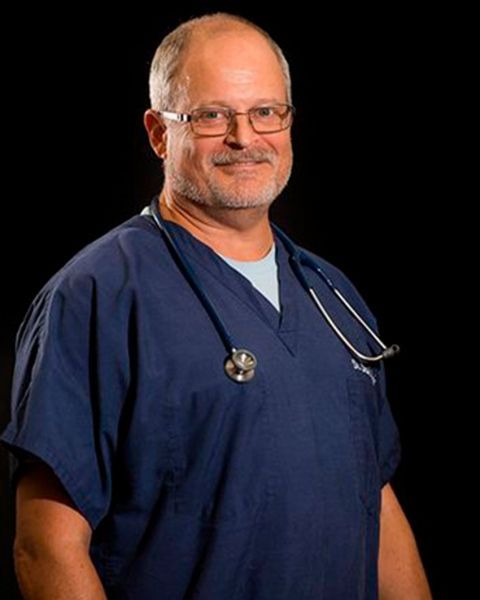 Dr. David Drake
Veterinarian
Dr. Drake's Bio
I grew up in Toledo, OH, and graduated from Whitmer High School in 1979. I was influenced by our family's veterinarian, Dr. Bill Mewborn, and enrolled at the Ohio State University, where I received my Bachelor of Science in Wildlife Management in 1984. I then followed through by graduating from Ohio State's College of Veterinary Medicine in 1988.
After graduation, I returned to Toledo and started practicing as an associate at Countryside Animal Hospital, the same hospital where I worked performing kennel help during my undergrad. In 1991, I became a partner in that practice when one of the owners decided to retire. In 1995, I became certified in Veterinary Acupuncture by the International Veterinary Acupuncture Society. I left the practice in 2009 and worked as a relief veterinarian at several hospitals and the local emergency clinic. I moved to Fort Mill, SC, in October 2011.
I began doing relief work at Pressly Animal Hospital in December 2011 and became their referral vet for all acupuncture needs. I joined PAH full time in November 2013.
I have two grown children, TJ and Alyssa. TJ is the manager of a brewhouse at a microbrewery in Columbus, OH. Alyssa graduated from Cleveland State University in the Spring of 2017. She studied Education for Special Needs children. I am extremely proud of both.
I enjoy being outdoors, hunting, fishing, camping, biking, kayaking, and horseback riding. I also enjoy gardening and growing my own vegetables. I have a Labrador Retriever named Duck.
To contact Dr. Pressly or Dr. Drake:
email: [email protected]
attn: Dr. Pressly or Dr. Drake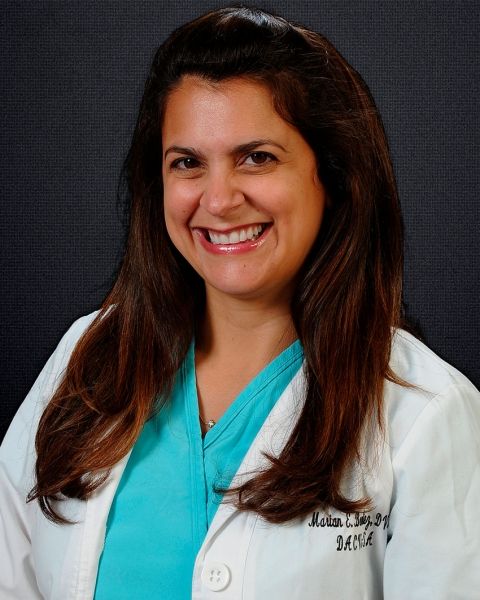 Dr. Marian Benitez
Referral Veterinarian
Dr. Benitez's Bio
Diplomate of the American College of Veterinary Surgeons, Small Animal
I graduated top of my class at Purdue University College of Veterinary Medicine in 2010. My desire to pursue surgery led me to advanced surgical training where I completed a medical and surgical internship at the University of Georgia and a three-year small animal surgical residency at Kansas State University.
I am a Diplomate of the American College of Veterinary Surgeons. I enjoy all aspects of veterinary medicine and surgery, but I have a special interest in orthopedic procedures for cranial cruciate ligament rupture and gastrointestinal diseases. My Masters of Science thesis focused on pain management considerations of small animals and I'm very invested in bringing about excellent pain management for my patients.
I am the sole owner and operator of Dogwood Veterinary Surgical Care, PLLC. My goal is to bring advanced surgical procedures into local veterinary practices to better serve clients and their pets.
Learn more about Dr. Benitez at www.DogwoodVeterinarySurgery.com.
Please visit www.tplocharlotte.com for additional information on surgical treatment recommendations for dogs with cruciate ligament (ACL) injury with Dr. Benitez and Dogwood Veterinary Surgical Care.
Kristina Simmons
Practice Manager
Kristina's Bio
I was born in San Diego, CA but have lived in the Charlotte area for almost 30 years. I graduated from Independence High School in Mint Hill where I met and married my high school sweetheart. I started working in the veterinary industry just out of high school as a part-time receptionist. Over the years, I have worked in many roles in the hospital, including receptionist, kennel help, veterinary assistant, lead pet nurse, and hospital director. I worked with Dr. Pressly in a corporate setting several years ago and our paths crossed again when Pressly Animal Hospital opened in July 2011.
I began working at Pressly Animal Hospital when it opened as a pet nurse. Since October of 2013 I have been the Practice Manager.
My husband and I currently live in Indian Trail with two children and a Bulldog/Staffordshire Terrier cross rescue named Zoe. When I'm not working, I enjoy spending time with my family and friends, and I also love to attend church, plan parties and go shopping.
To contact Kristina, you can email: [email protected]
Jennifer Hairston
Registered Veterinary Technician
Jennifer's Bio
I was born in Decatur, Georgia but have been in the Charlotte area since I was about 2. I graduated from the University of North Carolina at Pembroke with a Major in Business Management and a minor in Media arts. I initially wanted to be a film editor until I started volunteering at the Humane Society where I was eventually hired and worked there for 6 years. I enjoyed the experience so much that I made the decision to go back to school to become a Registered veterinary technician. I graduated from Gaston College in 2021. I did my internship for school at PAH and was hired upon completion of my training. I became registered in January of the following year.
In my spare time, I enjoy reading, going to plays, watching movies, and spending time with my family and friends. I have one dog, an Australian Shephard / Border Collie mix named Harley Quinn.
Maddie's Bio
Hi, my name is Maddie. I started working at Pressly Animal Hospital in August 2022. I love my job and my team. We all work very hard and treat every pet as our own. Outside of work I have 2 cats, 2 goats, 2 dogs and 2 ducks. I enjoy spending time with family and being outdoors.
Gabby's Bio
Hello, my name is Gabby. I started working at Pressly Animal Hospital in October 2022. I love animals and enjoy working with them everyday. Outside of work I love to spend time with friends and working out at the gym.
Olivia's Bio
Hi, my name is Olivia! I have been at Pressly Animal Hospital since June 2022 and I have loved every second of it! Working with animals is my greatest passion, and I love to befriend their owners too. Outside of work, I love to read, crochet and play with my Vizsla, Captain.
James's Bio
Greetings! I started here as an intern in January 2022 and in August of that year was offered a position on the team. I am also a full time college student. Animals have been my focus for as long as I can remember. Seeing the personality of each animal is the highlight of my day. I have two dogs (rescued from GCSPCA) and two cats. In my free time I enjoy watching movies, building Lego's and playing strategy games.
Colene DeTullio
Client Service Supervisor/Social Media Director
Colene's Bio
I have been an animal lover since I was a child. My very first pet was a cat that lived to be 19 years old. I moved to Charlotte in 2002. My early career was in Property Management, but my love for animals took over and led me into this industry. I have an affinity for the unique look of hairless animals, and I currently own a Sphynx, a gray Tabby, a Border Collie mix as well as a Chinese Crested, all rescues. I also foster for various local rescues, so there's always a third dog of some kind in the mix.
In my spare time, if I'm not with my animals, you will find me crafting or spending time with my husband and 2 grown children. To contact Colene directly, you can email: [email protected]
Piper Glasgow
Client Service Representative
Piper's Bio
Hi, my name is Piper! I started working at Pressly Animal Hospital in July 2020. I am currently studying business at UNC Charlotte. Outside of work I love to travel, read and play fetch with my dog, Salem!
Heather Hopkins
Client Service Representative
Heather's Bio
I was born in a small town in Connecticut. Right before my freshman year of high school, my parents moved us to NC. A few months after graduating high school I became a veterinary technician. I was with the same doctor at a small animal practice for 14 years. I recently became a receptionist at Pressly Animal Hospital. My husband and I have been together for 16 years. I have 2 small children, a German shepherd named Titan, a bully named Hobbs, a cat named Leeloo, another cat named Mango, and 12 chickens. Veterinary medicine is my passion and I love being part of a great team.